A Road Trip from Kyoto to the Japan Sea along the Historic Saba Kaido
Are you willing to swap the predictability and convenience of the major tourist attractions for the spontaneity and authenticity of the open road? In this article, I'll be taking you on a road trip from Kyoto to the rugged coastline of the Japan Sea, along a network of roads that have been traveled for well over a thousand years. So, sit back and buckle up, and we'll unearth a few hidden gems along the way and indulge in some culinary delights as well.
---
The Road Less Traveled
Few would disagree that Kyoto is one of the most beautiful cities in the world and should certainly be included in the itinerary of any first-time visitor to Japan. But therein lies the problem: "few would disagree". The Temple of the Golden Pavilion loses much of its appeal as a place for quiet contemplation, when you're being jostled by a noisy crowd of tourists waving selfie sticks.  
Of course, venturing into the unknown presents challenges of its own. You are likely to wear your slippers where you shouldn't, remove your shoes too soon or too late, or leave your chopsticks sticking straight up in your half-eaten rice bowl. All flagrant faux-pas in the empire of good manners.
Yet I would wager that the rewards are well worth the occasional embarrassment. The Japanese people are generally extraordinarily friendly and patient, and in rural Japan I find this to be even more true. Remember that smiling is a universal language, and you will likely be able to charm yourself out of just about any awkward situation.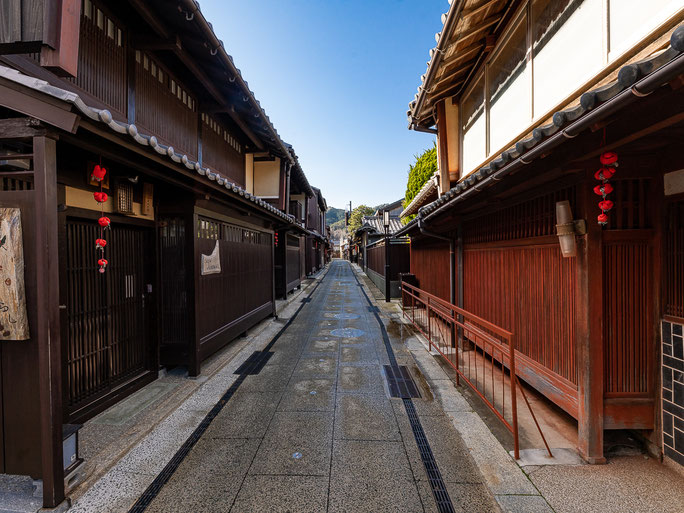 Why Drive When You Can Ride the Train?
"Why drive when I can go anywhere with a JR rail pass?" you might be wondering. Indeed, the trusty JR pass is a bargain and the trains do stop in the most desolate of places. Yet sitting bolt upright for hours on end on a glacially slow local train can get tedious, even while watching the picturesque Japanese countryside glide by.
And then you are faced with the problem of getting about once you've arrived at your destination. Local busses can be even slower and scarcer than the trains, and often the most interesting attractions are the least accessible.
Cycling is an excellent option, and you can read more about cycling the Sabakaido Raido here. But if cycling's not your thing, or if you prefer the all-weather comfort and freedom of a rental car, then please read on. I won't go into all the ins and outs of automobile rental in Japan, because this article does a better job than I could.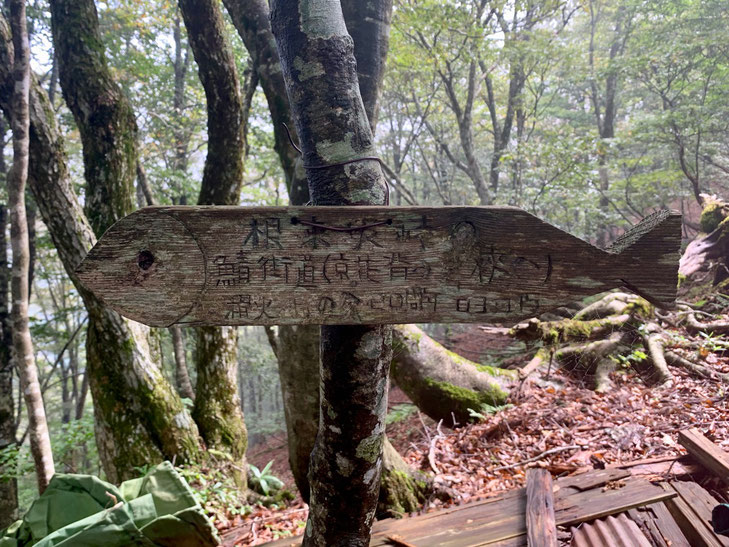 The Saba Kaido
In the days when overseas travel was by sail, and overland travel was on foot, there existed a network of roads linking the ancient capitals of Kyoto and Nara to the then bustling seaport of Obama. These roads later became collectively known as the Saba Kaido, or "Mackerel Highway," as they were used primarily for transporting salted mackerel, salt, and other seafood items harvested from the bountiful fishing grounds of the Wakasa Bay.
Porters would hoist baskets of salted fish weighing as much as 40 kilos onto their backs and hurriedly relay them over a series of steep passes and narrow valleys, to arrive at Demachiyanagi market in Kyoto by the following day.   
However, the Saba Kaido was more than merely a highway connecting Kyoto to the sea. It connected cities to villages, commerce to culture, and - when the port of Obama served as a principal gateway to the Asian mainland - it connected this remote island nation to the outside world.
These roads served as a conduit for ideas, beliefs, innovations, and aesthetics that would help shape Japan's complex culture over the centuries. Buddhist statues, pottery, technology, books, and even a bewildered elephant were once transported along the old Saba Kaido.
Setting Out
Where do you begin your journey?
A good place to rent your car might be the Toyota Rent-A-Car Hyakumanben (+81 (0) 75-702-8100). This will get you out of the denser traffic of Downtown Kyoto, and close to the starting point of the Saba Kaido. The office is only about a 10-minute walk from Demachiyanagi Station on the Keihan Line.
But before setting out, head west from the station and cross the bridges spanning the sleepy Kamo River to pay a visit to the Demachiyanagi Market. This is where porters of old would deliver their precious cargo to the merchants and fishmongers. Even today, you will likely find some sabazushi and other products from your destination, the seaport of Obama.
Leaving the market, look to your left along the river bank before crossing the bridge again.  You will see a small stone monument with the following characters inscribed: "鯖街道口" – "The Starting Point of the Saba Kaido". Take a selfie for posterity, and then head on over to Toyota Rent-A-Car Hyakumanben.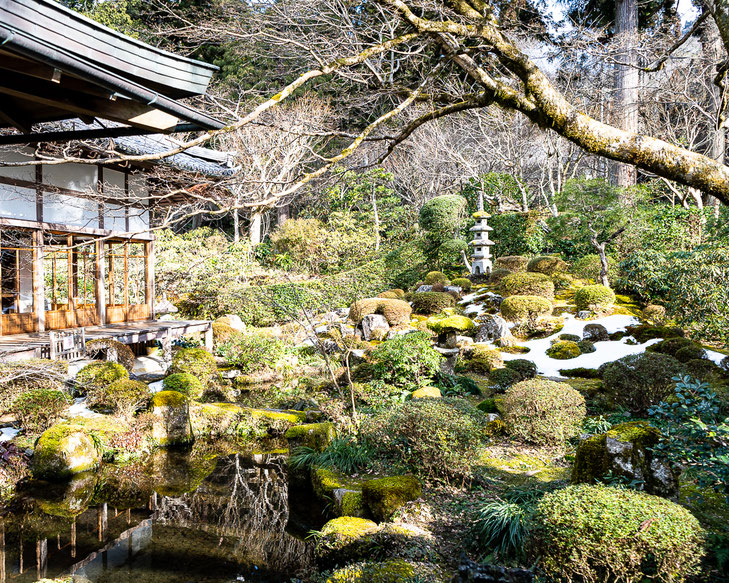 Ohara
Ohara is a popular day-trip destination for Kyotoites, brimming with historical and religious significance. It is also a farming region that has been known since ancient times for the quality of its produce. It is certainly worthy of more than a passing visit, or a few paragraphs in a blog post. I will cover it in detail in a future post but in the meantime, you can read this article by Michaele Lambe for a more in-depth description.
Ohara is so popular, in fact, that it is best to avoid going there on a weekend or holiday, especially during spring or autumn. The most famous of Ohara's many temples is Sanzen-in, which was founded by Saicho - the founder of the Tendai sect of Buddhism in Japan, in the late 8th century.
The temple complex is deceptively large, revealing ever more magnificent gardens, buildings, and statues as you follow the arrows along the labyrinthine corridors and garden paths. When you reach the upper garden surrounding the temple that enshrines Kannon (the Boddhisatva of Compassion or Avalokitesvara in Sanskrit), you will be beckoned into a hut by a polite older lady for a free cup of tea, which you can enjoy while gazing out over the garden.
Another temple with exquisite gardens and an even older - albeit sad - history, is Jakko-in. This temple was established by prince Shotoku – an early proponent of Buddhism in Japan – as a convent in 594. The third Abbes, Kenreimon-in, was the lone survivor of one of Japan's greatest and most tragic samurai families.
The Genpei War, fought at the end of the 12th century between the rival clans Taira and Minamoto, brought centuries of relative peace and the Heian era to an abrupt end. The Taira clan, upon losing the fateful naval battle of Dan-no-Ura, committed suicide by leaping into the sea.
Kenreimon-in alone was hoisted from the waves, and subsequently retired to this temple to pray for the souls of her family. Her statue sits to the left of the large, brightly colored Jizo statue – patron saint of children and travelers – that is the principal object of worship.
Ohara is also an excellent place to take lunch. A healthy option, that is also very accessible to non-Japanese speakers, is Riverside Café Kirin. This casual restaurant features a buffet of delicious organic dishes prepared from local ingredients.
A roadside canal in Kumagawa Juku (left) and Sol's Coffee Laboratory (right)
Kumagawa Juku
There are several routes that make up the Saba Kaido, and the one proposed here is known as the "Kutsuki". Being flatter but longer than the more mountainous Harihatagoe, this was the preferred route for leading pack animals.
Juku – or post-towns – were villages that were established along old roads like the Saba Kaido to offer the weary traveler food, lodging, and other services. Kumagawa Juku is a former post town along the Kutsuki route that still preserves much of its traditional architecture and scenery.
You can walk from end to end of this tiny village in a matter of minutes, but there are several fine shops and cafes lined up along its only street. My personal favorite, which also happens to be the roastery where I buy my beans, is Sol's Coffee Lab. A small chain with three shops in Tokyo, Sol's chose Kumagawa Juku for it's only location outside the capital because of the water, the barista tells me.
They truck their water from the nearby sacred spring of Uriwari Falls. This sweet spring water and their expertly roasted beans make for a unique coffee experience you wont likely find in the city. You can sip your coffee and eat your scone in their tastefully remodeled machiya townhouse, and request a jazz record or cd from their ample collection.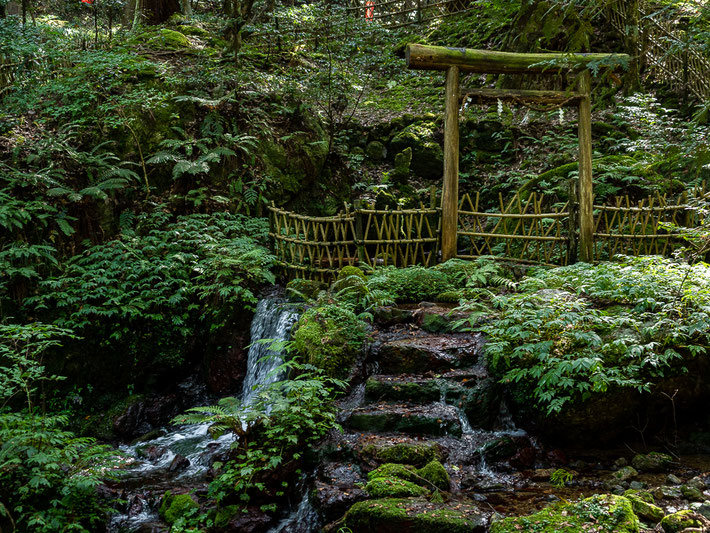 Uriwari Falls
"Melon Splitting Falls". Named thus because the water that flows from this spring is so cold it could split a melon in two. Just down the road from Kumagawa Juku, make a brief detour here if you would like to refill your canteen from a spring that is selected among "Japan's 100 Most Remarkable Waters".
The lush forest also makes for a refreshing place to stroll and take in the scenery and the cool air. There are moss-covered rocks, cherry and maple trees, and as many as 10,000 hydrangeas to please the senses in all seasons.
A view of Obama and Wakasa Bay (left) and the 3-story pagoda of Myotsuji, a National Treasure (right)
Obama
This small city of just under 30,000 inhabitants has so many temples and gardens it's known as "Nara by the Sea", and boasts the most temples per capita in all of Japan. Some of the temples are even older than those found in Kyoto, and the pagoda at Myotsu-ji has been designated a National Treasure.
As the nearest northern seaport to the former capitals of Kyoto and Nara, Obama served as a gateway to the young nation's blossoming cultural exchange with China and Korea as far back as the Asuka period (592-645 AD).
But the Saba Kaido wasn't a one-way street. The refined culture of the capital also made its way back to Obama and can still be seen today in its culinary traditions, architecture, festivals and dialect. This town is a great way to experience Japan's cultural heritage without contending with the crowds of the better-known tourist areas.
There is so much to see, do, and eat in this little town that I recommend spending the night in a traditional inn or machiya stay. My previous article Obama By the Sea covers this hidden gem in depth.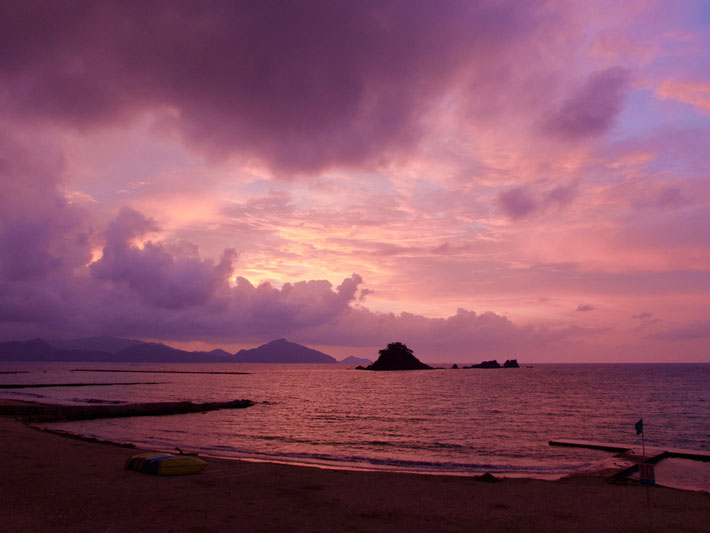 Wakasa Wada Beach
From Obama it is possible to drive directly to Miyama, but if the weather is nice and you would like to visit a world-class beach, just continue driving west along the coast. You will soon come to Wakasa Wada Beach. This is the area's most popular beach, and in 2016 became Asia's first to be awarded Blue Flag status.
It is characterized by its crystal-clear, shallow waters and fine white sand. There are beach huts, showers, and restaurants, and during the swimming season lifeguards are stationed. It's also known for its breathtaking sunsets.
If you don't plan on getting behind the wheel again for a while, you can try the excellent local craft brew Wakasa Beer. You can find that, along with good food and super friendly service, at Familiar Restaurant looking out over the beach.
Kayabuki thatched farmhouses of Miyama
Miyama
Your return trip to Kyoto will be along the Nishi – or Western Saba Kaido. Take the windy, narrow highway 16 from Takahama (not recommended in winter) until it joins highway 162. Cruise through the charming scenery of rural Japan until your final way point before Kyoto, Miyama.
This uber charming village that has escaped the ravages of time is only 30 km north of Kyoto, yet remains relatively unknown to tourists. Unlike similar villages in other parts of Japan, these traditional farmhouses with their roofs of straw thatch – known as "kayabuki" – are still inhabited by local residents.
Please keep this in mind as you stroll through the town, and take care to be respectful of private property and the tranquil atmosphere that I'm sure the villagers would like to maintain. Stop into the Cafe & Gallery Saika for a coffee and a sweet before getting back on the road. Or better yet, book a stay in the village and experience life in a kayabuki for yourself.
You can find detailed information about visiting Miyama here.  https://miyamanavi.com/en/
Voyage Complete
Toyota Rent-A-Car Hyakumanben is less than an hour and a half from Miyama, along highways 368, 78, and 162.
Of course, you can create your own variations of this itinerary, depending on your schedule and budget. One option might be to continue from Takahama along the coast to scenic Amanohashidate, then up the Tango Peninsula to Ine where you can stay in a unique funaya "boat house." From there you could drive along the scenic coastline around the peninsula and stop at Kinosaki Onsen for a soak in a hotspring, before driving to Miyama.
I'll cover these alternatives in future posts as I continue to explore this corner of Japan, but feel free to contact me if you have any questions or comments. And please do leave your email address in the contact form if you would like to be notified of future articles and/or tours.