In September of 2021 I walked the historic Saba Kaido with 3 companions, along the route known as the Harihatagoe. Our journey lasted two and a half days and took us along 56 kilometers of steep mountain passes and quaint valley settlements. Along the way we got to enjoy some amazing regional cuisine, and meet plenty of friendly local folks.  
This article will relate our adventures, as well as share some useful information and travel tips for those of you who might consider walking this road yourself someday. If there's anything specific you'd like to inquire about, just hit me up in the comments.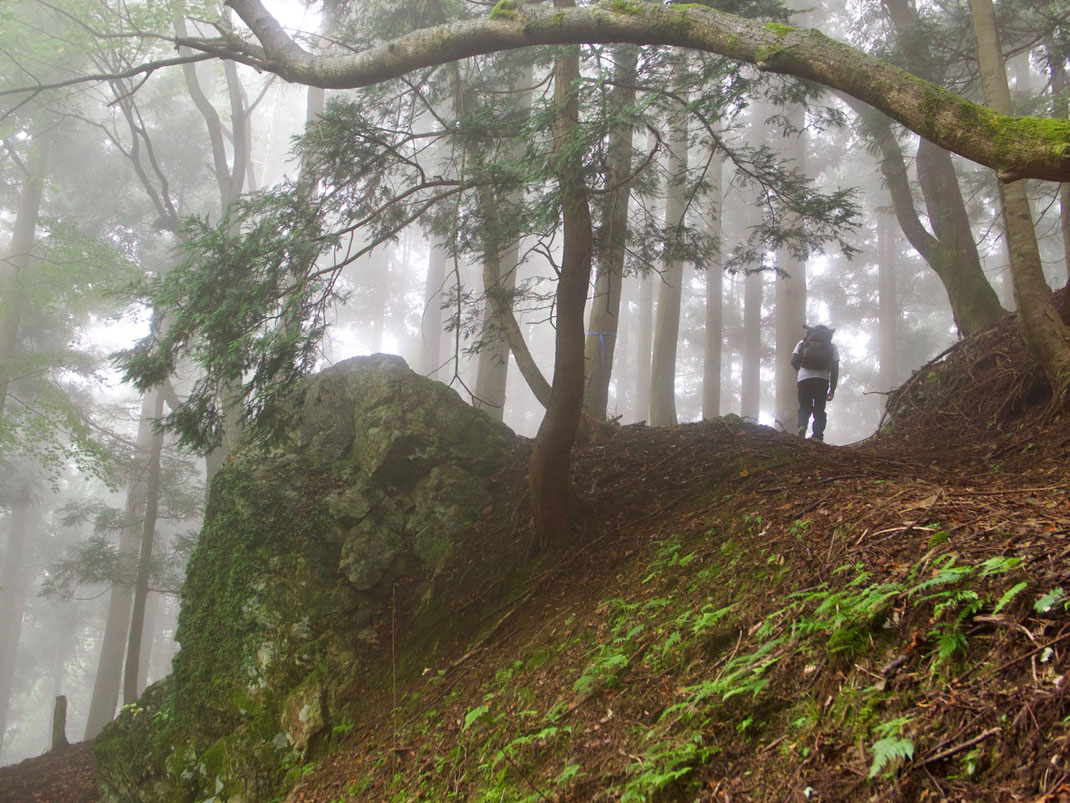 The Mackerel Highway
In the days when overseas travel was done by sail, and overland travel was done on foot, there existed a network of roads linking the ancient capitals of Kyoto and Nara to the then bustling seaport of Obama. 
These roads later became collectively known as the Sabakaido, or "Mackerel Highway," as they were used primarily for transporting salted mackerel and other seafood items harvested from the bountiful fishing grounds of the Wakasa Bay.
Porters would hoist baskets of salted fish weighing as much as 40 kilos onto their backs and hurriedly relay them over a series of steep passes and narrow valleys, to arrive at Demachiyanagi market in Kyoto by the following day. 
However, the Sabakaido was more than merely a highway connecting Kyoto to the sea. It connected towns to hamlets, commerce to culture, and - when the port of Obama served as a principal gateway to the Asian mainland - it connected this remote island nation to the outside world. These roads served as a conduit for ideas, beliefs, innovations, and aesthetics that would help mold Japan's complex culture over the centuries.
Following in the Footsteps of the Ancients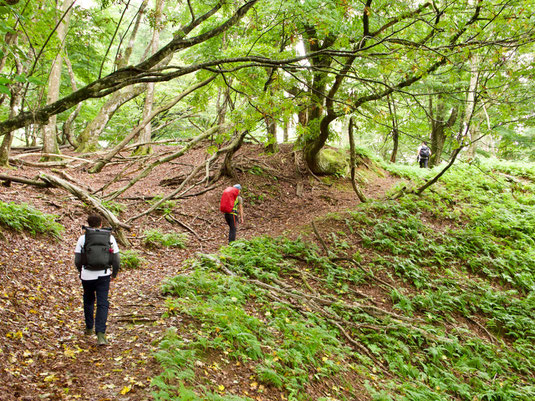 In this age of trains, planes and automobiles, the Sabakaido has become a road that connects the present to the past. To walk it is to step back in time. Peel away layers of history as you go, and glimpse what it may have been like in simpler times, when the landscape was animated by myth and the only means of communication were the roads and the people who traveled them. 
While many of these old highways have been paved over, several segments of the route known as the "Harihatagoe" remain in their original state. The Harihatagoe was the most direct route, and thus the most perilous, zigzagging sharply up mountain passes and descending steeply into narrow valleys. It's age is evidenced by the trenches formed in places from the myriad travelers that have gone before.
Setting Out
The expedition party meets at the Obama Tourism Information Center. I am joined by Tamura san, founder of Tabikyo Japan tour company, veteran mountain guide Haneda san, and Sean, a young Brit living in the area who has studied the Sabakaido extensively. I work for the Obama Tourism Bureau. Our mission is to determine the viability of the Harihatagoe trail as a prospective tour. 
The four of us are briefed by a few local officials and two representatives of the Sabakaido History Study Group. After brushing up on our history and going over some details of the guidebook, we head to the supermarket for provisions. We then get a lift to Jinguji Temple, where our walk is to begin. This 8th century temple enshrines both a Buddha and a Shinto deity, in the syncretic tradition known as Shinbutsu Shugo.
When we finish praying to the Buddha and the local deities for a safe and fruitful voyage, it is already mid-afternoon on a hot and humid late summer day. We shoulder our packs and set out under a mercifully overcast sky, along a picturesque country road flanking the Onyu River.
The Ghost Hamlet of Kaminegori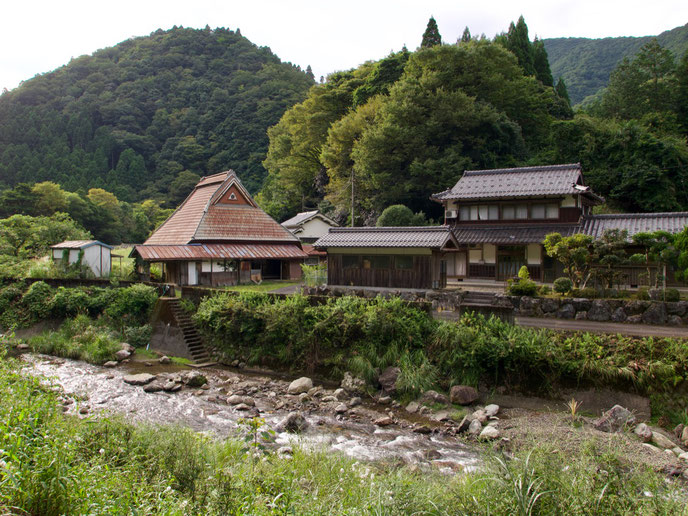 Entering the settlement of Shimonegori, we begin to see the characteristic local farm houses, with their steep roofs and windowless second floors. These cavernous upper stories were often used to house silkworms. During the long winters when agriculture was not possible, silk production was a common livelihood among the women of these mountain villages. 
By late afternoon we arrive at the tiny hamlet of Kaminegori. This uninhabited ghost town is made all the more eerie by the fact that its former inhabitants, who have all moved to the city, continue to maintain the old buildings as if they still lived there.
Seemingly frozen in time, the abandoned settlement provides an excellent glimpse into the beauty and functionality of the vernacular architecture.
One of these old structures has been made available as a sort of DIY accommodation, with limited amenities. You have full access to the bath, kitchen and barbecue facilities, but you'll have to bring your own sleeping bag and pad to roll out onto the tatami mats. Our expedition, however, was happily provisioned with the luxury of futons.
We celebrated the first day of our voyage with a barbecue under the stars, with cans of beer and a bottle of Shiraz. While we feasted on roast veggies and wagyu beef, Tamura san told us of his ambitious plans for reviving this charming old hamlet. There would be Inns, baths, restaurants, cafes, craft beer....
All Roads Lead to Kyoto
The next morning we hit the road a little behind schedule. Having burned the rice the night before, we have to steam a fresh pot in the morning for our lunch. We are further delayed by some confusion as to what direction to take heading out of Kaminegori. Is the sign pointing at the path leading up to the shrine, or up the same road that we have been traveling on? 
This is a theme that will recur throughout the trip: no shortage of signs in places where the direction is obvious, yet no sign in sight where there is a fork. Or perhaps there is a sign, but with no clear indication of which direction to go in. Other times, one comes upon a multitude of signs, all placed at one site and vying for the attention of the bewildered traveler.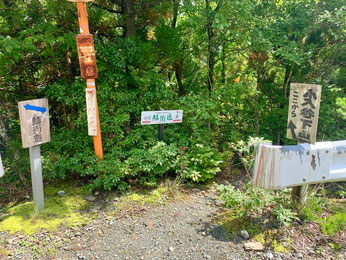 One of the tasks my companions have been assigned with is to mark sites to place future signs, to hopefully clear up any ambiguity. Sean carries a Garmin GPS device to keep a record of such sites, as well as for tracking our route. 
We eventually find our way, continuing along the same road as yesterday. Meanwhile, the morning mist begins to lift, offering views of the valley from whence we came and distant green mountains with their own shrouds of mist, rising like steam.
Into a Forest Primeval
A kilometer or so from Kaminegori we arrive at the trailhead, marked by an impressive and unambiguous stone tablet engraved with characters reading "Sabakaido: from Obama to Kyoto."
The trail switchbacks steeply up into a foggy cedar forest, and then gives way to a lush deciduous forest of majestic horse chestnut and beech trees. 
How many porters have these grand old trees witnessed, struggling up this very slope with their burden of salted saba? Haneda san pauses to gaze up into a massive horse chestnut tree in awe.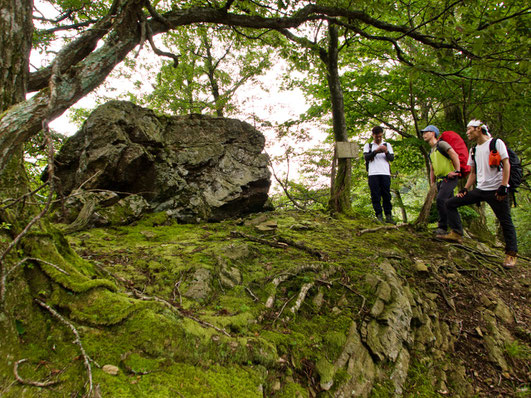 This is what all of Japan's forests must have looked like, before the postwar government's policies transformed most of the country's rich and diverse forests into homogeneous plantations of cedar and cypress. The intention had been to rebuild the country using Japanese lumber, but it ended up being rebuilt from imported steel and cement, and the plantations were abandoned.  
The trail leads us onto a ridge with marvelous views to either side, and we stop for a rest at the mythical Goza Rock. What is it's story? Tamura san consults his guidebook to find out. The elder brother of the local deity Wakasahiko once sat on a goza - or reed mat - and slid down this very rock, the book states matter of factly. Tamura san is skeptical, but it is a handsome boulder all the same.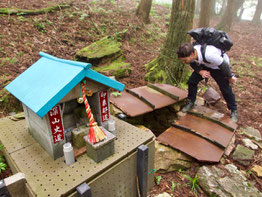 The trail soon rejoins the paved road, but it is a pleasant road with good views looking out towards the mountains of Shiga Prefecture, and before long you plunge into the forest again to resume the climb to Harihata Pass. On your way up, you will come to an old well lined with stones, guarded by the ubiquitous bodhisattva Jizo, patron saint of travelers. How many have rested here and slaked their thirst at this ancient well? 
Ducks Xing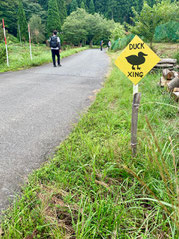 A meandering descent ends at a shallow bridgeless stream, which you are obliged to dash across before your boots soak through. Entering the charming hamlet of Onyudani you will pass a sign warning of ducks crossing, and soon after you find yourself at the gate of Haruya Guesthouse, a sunny and cozy AirBnB operated by the Fujimura family. 
Here we were greeted by Mrs. Fujimura herself, her daughter, and their dog and duck - who are the best of friends. We were kindly invited in to see the premises, and to have our lunch in the shade of the garden gazebo. The hammock hanging in the gazebo was tempting, but we still had plenty of ground to cover before reaching our inn in Kuta.
We pass a stately thatched farmhouse, which I later discover is a 100-year-old building that has been converted into a Zen hall named Dharma Samgha.  According to the folks at Papersky, who walked this road before us, it was established by Tenseki Iikeda in 2001 as a place for lay followers to undergo an extensive practice in zazen.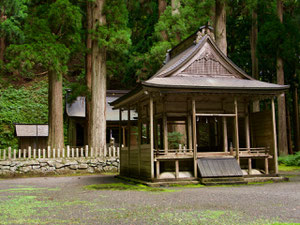 Next we come to a bakery that opens for only 50 minutes a week. No one is in a hurry down here in Onyudani. The whole village exudes a feeling of peace and tranquility, and the pace is as gentle as the shallow Harihata River that flows through it. Tough luck for anyone looking to buy a loaf of bread, of course.
Leaving the settlement, we visit a rather grandiose shrine shaded by a stand of cedars that look to be hundreds of years-old: evidence that this quiet hamlet was once a bustling waypoint on the old Sabakaido.
Sleeping in a 250-Year-Old Inn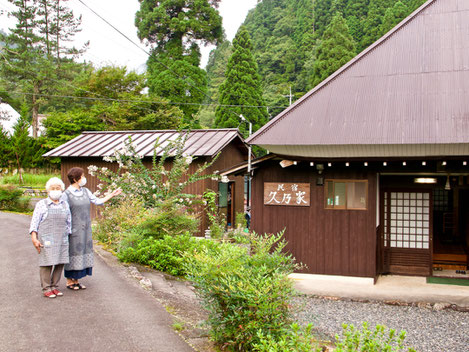 The road to Kuta is paved yet narrow, and flows downstream in tandem with the extraordinarily beautiful Harihata River. Four and a half hours of walking on asphalt does take its toll on the foot soles however, and we find ourselves fantasizing about bicycles, or even a skateboard.
We reach our inn just as the sun is setting and the western sky is glowing sakura pink. Hisanoya occupies a 250-year-old farmhouse, and is operated by a wonderfully hospitable mother and daughter team. The cuisine they conjure for us from local ingredients is superb, and is famous enough to draw customers all the way from Kyoto and Osaka.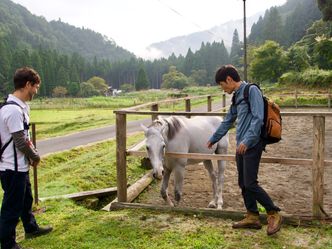 We rise before dawn to another amazing meal, featuring a local delicacy known as tochi mochi: pounded rice cakes made with horse chestnut flour. I'm told these treats require several days to prepare.
While today's hike of 23 km is 3 km shorter than yesterday's, there will be more ups and downs, and the terrain will be rougher. We head out just after sunrise. As we leave the picturesque village of Kuta, we pass a large sign with a hand-carved wooden mackerel that affirms we are on course. We stop to say hello to a friendly horse that beckons us from its corral, and then turn up onto an abandoned logging road alongside a mountain stream.
Hazards on the way to Ogurozaka Pass
This old road quickly deteriorates into a rough trail, and has been completely washed away in one place where we have to negotiate our way around a deep gully. We then turn onto a pleasant mountain trail that zigzags up into a forest, composed mainly of cypress at first, but then transitioning to mostly broadleaf.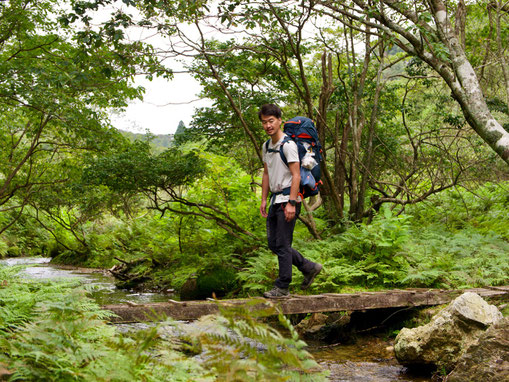 Don't pause too long to look at the scenery, however. We had been warned that this trail was leech-infested. I counted 7 bites on my ankles, but then I was taking my time snapping photos. I'd recommend gators and leech repellent for this leg of the journey, especially in summer and early fall. And even then you'll want to keep a brisk pace and inspect yourself periodically.
Once you've surmounted Ogurozaka Pass, the road levels out and you find yourself on the plateau of Haccho Daira. This area seems to be a kind of prefectural park, with neatly groomed trails and narrow wooden bridges over meandering streams. There are benches here to rest on, and this is a good spot to take off your boots and do a thorough leech inspection. 
Looking for the Lost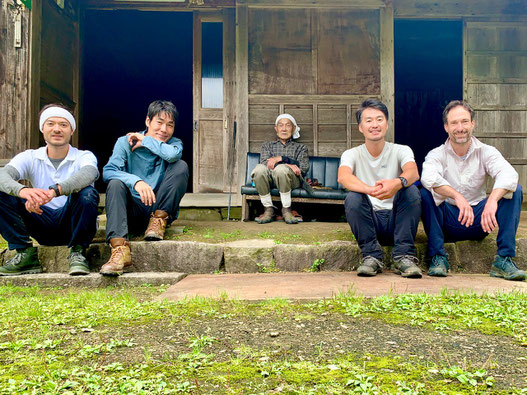 Back on the paved road we pass through the settlements of Ogoshi and Omi, with more splendid examples of the silkworm-inspired vernacular architecture. We encounter an older gentleman seated on the side of the road and exchange greetings. We are about to continue on, but are intrigued by a hand-painted sign on the roadside indicating a payphone inside.  
While you may smile at such an anachronistic device as a payphone, it could be of use in an emergency as no one had adequate cell phone reception for the duration of the journey. 
It appears this old house has been converted into some kind of rest area for travelers. There is a bench beneath the pay phone, an impressive garden of dahlias and chrysanthemums in full-bloom, and a row of neatly trimmed bonsai. We are welcome to stay here and take our lunch, which the lovely ladies of Hisanoya prepared for us. 
When we praise his garden our host answers humbly that he has plenty of time on his hands. After a bit of small talk, Tamara san asks his age. 93 years-old. He remembers, as a child, how the porters would carry the salted mackerel on their backs when they jogged the Saba Kaido, dressed in their white hanten jackets. 
His house is 350 years-old. And, glancing inside, it appears as though it hasn't changed much since the Edo Period in which it was built. Indeed, the Sabakaido is a road back in time. This is the forgotten Japan, the "Lost" that author Alan Booth searches for in his travelogue Looking for the Lost, Journeys Through a Vanishing Japan. 
This is one of those gems in the rough that slipped through the fingers of progress, and was left to exist in its original state buried in the dust. One of the joys of traveling on foot is the possibility of discovering such gems.
Arriving in Kyoto
Hanase is the last pass that remains to be climbed. Much of the original Sabakaido trail here seems to have been converted into a logging road, which has in turn become a favorite route for weekend dirt bikers. The bikers politely slow to a crawl and bow over their handlebars as they pass.
When you do come to the pass, you will find yourself on highway 477, and at the beginning of a steep descent down 10 kilometers of winding blacktop to Kurama Station. This might be a good place to phone a cab if your feet have had enough, as this was also around the area when we began to get cell phone reception.
Just north of the station you will pass Kurama Hot Springs, where you can dissolve away all the fatigue before getting on the train. More intrepid walkers may opt to push through the final 12 km to Demachiyanagi - the official finish line of the Sabakaido - just northeast of the Imperial Palace. 
Questions or comments are welcome. For additional information, or to pick up an English language map, visit the Wakasa Obama Tourism Information Center in front of Obama Station.